So
Andrew Luck has his new monster deal, the richest in NFL history
, and that's great for him.
It's not great for the Colts salary cap, but that's the cost of doing business. The unsavory and non team-friendly details are this: Luck gets six-years, nearly 140 million total, $60 million in full guarantees and $87 million in total guarantees.
YIKES! 
That's also the price for cost certainty and the Colts now have it. There's no guarantees of performance and there never is. The only guarantees in football are knowing what your cap costs are going to be by doing a multi-year contract and that the price almost never goes down.
The Colts knew they had to pay the only guy who could potentially be their franchise quarterback long-term. True, Andrew Luck's resume would lead you to believe that much more is ahead but what if he is more like last year than his first three years?
What if his giveaway total keeps inching closer to his passing touchdown total? All possibilities, but this is the way the NFL works. You draft a quarterback, you develop a quarterback, you know the quarterback better than anybody and then you pay him.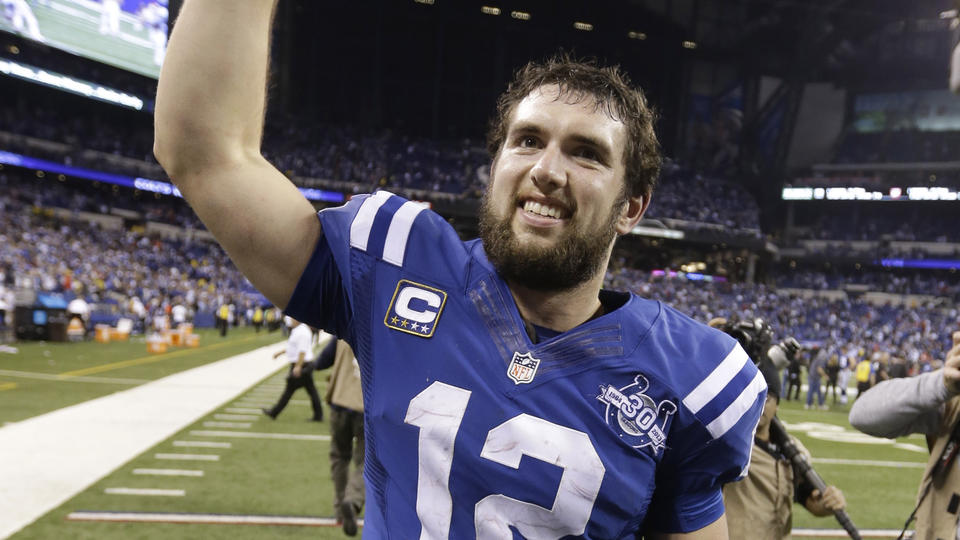 Very, very rarely do you wait and let the guy you believe to be your franchise quarterback twist in the wind.
The Colts realized this and locked in their future costs and cap figures. The Redskins have obviously chosen the opposite path and that's their right. It doesn't mean that they ARE right, though.
The Colts did not want to risk Luck having a 40 + touchdown year with 4,800 + passing yards and say 15 or so total turnovers, because they knew that the six-year, $140 million deal they signed with Luck yesterday, would possibly be $160 million in value and perhaps $100 million in total guarantees as opposed to the $87 million he received now. They also realized that by waiting to see what happened would lead to one of three bad options for them.
The Colts would either pay more in fully guaranteed money, perhaps in the neighborhood of $70 million or more (compared to $60 million now) on a long-term deal, or a franchise tag of roughly $24 million for one more year (2017), or Luck bottoming out so bad that they would cut ties with him and have to start over again.
Three terrible options and the Colts wisely did not want any of them. Instead, they knew what the market would dictate (even if Luck had another sub-par year) and they knew that cost certainty was of extreme importance.
They also are banking on Luck bouncing back to his Pro-Bowl form, because they know the player better than anyone. Ryan Grigson & Chuck Pagano, the Colts General Manager and Head Coach, have been with Luck from day one. They know him inside-and-out.
So what does this have to do with the Redskins and Kirk Cousins?
Well…that's complicated.
Clearly, Cousins is not Luck and nobody would argue that. He also wasn't allowed to be Luck, who started from day one. The fact is – we don't know what Cousins could have been and can be, because of the situation that he was stuck in.
We also don't know what Luck will be any more than we know what Cousins will be. I think that's fair.
Luck is on the books for an average annual value of just shy of $23.5 million. Two weeks from today, we'll very likely find out that Cousins will play the entire 2016 season on the franchise tag and the value of just shy of $20 million.
If
Cousins has a reasonably comparable year in terms of statistics in 2016
, which is to say he'll average around 260 passing yards per game, 2.1 touchdowns per game (passing & rushing), and less than one turnover per game (0.875 per game in 2015) and say the Redskins win somewhere between 8-10 games, Cousins will be worth somewhere between $20 million and $23.5 million per year on an average annual basis.
If he exceeds those average numbers in 2016, there's a good chance that a long-term contract with Cousins could be north of Luck's averages and be in the range of $23-25 million per year, on either a five or six-year deal, with the fully guaranteed money between $55-65 million depending on length of term.
Presumably, Cousins' agent Mike McCartney would want the higher length and therefore guaranteed money, so it would likely be the six-year deal and north of the $60 fully guaranteed that Luck got or if they went with the shorter term (a five-year deal), Cousins would still come away with probably between $55-60 fully guaranteed, if not more, on a long-term deal.
The difference? This might be the killer, depending on how you view things. Luck's six-year deal wipes out his original fifth-year option of $16.15 million that he was due to make for one year (2016) as part of his original deal. Remember, that's the same figure the Redskins cleared off of their books by dumping Robert Griffin III.
So Luck's deal starts now, and is for the six-years with the figures above. Cousins, is 95% likely to play this year at the guaranteed $20 million, plus he likely will get a five-or-six year deal (to stay with Redskins next year) and while that deal will likely cost the Redskins around $60 million fully guaranteed, with roughly $90 million in total guarantees and likely around $130 million (give or take, based on length of deal), you have to COMBINE the $20 million fully guaranteed in 2016 to the overall picture.
So, just to put it in perspective – there's a good chance the Redskins will ultimately pay Kirk Cousins more than $80 million fully guaranteed, around $110 million in total guaranteed money, and likely over $150 million in total contract value. That would be from 2016 through at least 2021 and possibly through 2022. 
During the same 2016-2021 span, Luck will make plenty of money in terms of contract, but Cousins will very likely smash Luck's figures to pieces during the same span.
Of course, the ONLY advantage the Redskins have over the Colts in this situation is that they can walk away from Cousins with only $20 million and one year invested. That's true and I can't deny that, but as I continue to say – the Redskins still lose there.
On the field and off of it. If they are in a position to walk away from Cousins, which means 2016 was a bad year on the field and the Redskins lost more than they won. Also, they would be staring at Colt McCoy under center in 2017, along with Nate Sudfeld and another quarterback.
If Cousins performance dips slightly for whatever reason, but the Redskins want to keep him, they will still pay him in the range of $19-21 million per year, because they chose to wait.
If Cousins balls out and the Redskins still chose to walk away because of the long-term money, they will be shredded like pulled pork.
Or the Redskins could continue to play the one-year-at-a-time, dumbass tango and pay Cousins nearly $24 million in 2017 for a combined $44 million for two years and still have  no long-term answer or stability moving forward.
The other option is  the mega deal that will easily make Cousins the highest paid player in the sport until somebody else trumps that deal. In this case (again), they will be paying Cousins a LOT more money than the Colts paid Luck over the same amount of time.
This is the truth, whether you like it or not.
The Redskins are paying DEARLY for their indecision
and their methodical and maddening philosophy. In a salary cap driven sport, this means EVERYTHING. 
Now, the burgundy and gold will need all the LUCK they can get, trying to figure out this mess. 
Chris Russell has covered the Washington Redskins for six seasons for multiple media outlets and was a part of the Redskins Radio Network broadcast team for the last five. He covers the Redskins for Monumental Network (www.DCHotRead.com), WashingtonTimes.com, BreakingBurgundy.com & Warpath Magazine. Listen to Chris on Washington D.C.'s # 1 sports radio station, 106.7 The FAN