It's official and something that was an inevitability is now a reality.
The Redskins have lost their young gun offensive coordinator, Sean McVay, to the Los Angeles Rams.
McVay, 30, becomes the youngest head coach in NFL history. He's been ticketed for an opportunity like this for almost as long as I've known him, which has been almost seven years.
The Rams fired Jeff Fisher, one of Mike Shanahan's best friends to hire a Shanahan protégé. However, it was with Jay Gruden over the last three years, that Gruden really emerged on a national level.
McVay reportedly received a five-year deal to coach the Rams and presumably, last year's # 1 overall pick, Jared Goff.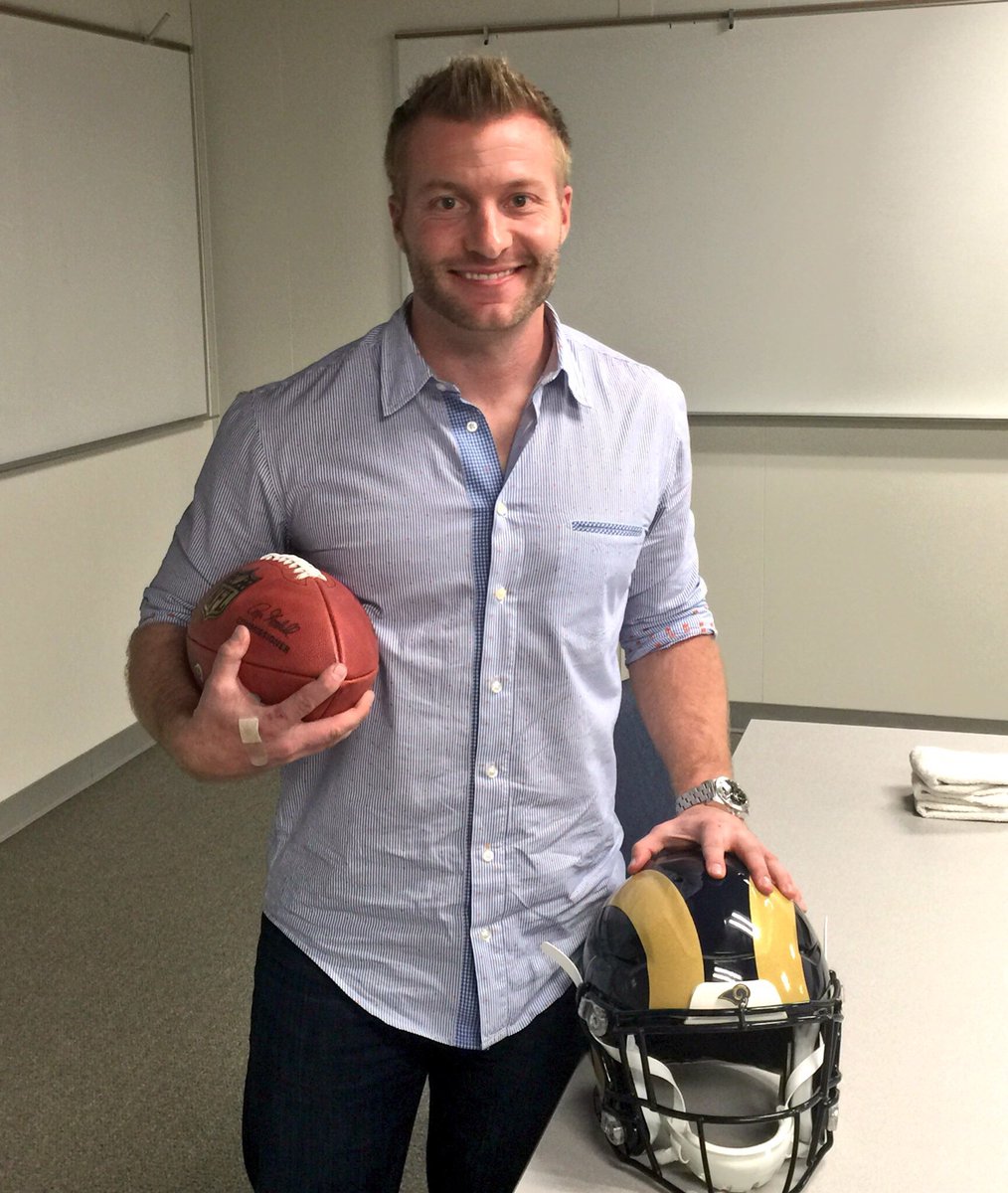 (Photo Courtesy of Los Angeles Rams)
The Rams are taking a chance, but it's a great gamble. Everyone at Redskins Park knew this day was going to happen but it was just a matter of when.
Jay Gruden retained McVay when he took over as head coach three years ago, and installed him as his offensive coordinator by title. Essentially, McVay was the Redskins quarterbacks coach that year but did occasionally call plays in that first season.
McVay became the full-time play caller at the start of 2015 and the Redskins offense responded by finishing 17th in yards per game (10th in yards per play) and 3
rd
overall in yards per game (2nd in yards per play) in 2016.***
Per
Erin Hawksworth of ABC 7 and News Channel 8
, Gruden issued a statement to her, saying in part "I know the players and staff will miss him."
For the Rams, their future is tied to a bright, young coach that has rich NFL bloodlines (McVay's grandfather, John, helped build the San Francisco 49'ers dynasty).
For the Redskins, not only do they need a new defensive coordinator but they absolutely must stay in-house to provide some stability and continuity.
I would go with Matt Cavanaugh, the team's quarterbacks coach and a former play-caller with the Baltimore Ravens and allow Bill Callahan to focus on his much larger group of players.
Regardless of who they pick, it will be interesting to see who calls plays in 2017 for Washington. Does Jay Gruden go back to that role, in addition to his head coaching duties? I hope not. Gruden has enough to deal with. 
Or does he trust Cavanaugh or Callahan, who have been here for several seasons?
Does Gruden try and prevent tight ends coach Wes Phillips from leaving for Los Angeles by offering a promotion in-house? 
Phillips has never called plays before, and McVay was instrumental in his hire, but the new Rams head coach reportedly just hired Phillips' Dad, Wade, as his new defensive coordinator in Los Angeles.
The Redskins were expected to interview Wade Phillips on Friday and
 battle the Rams and their new head coach for the services of Phillips
, as first reported by Carol Maloney of NBC 4.  However, that appears now, as it won't happen.
For the Redskins, either way, losing McVay is a pretty significant loss but they can minimize the damage by focusing on continuity and stability in the coming days. 
Chris Russell has covered the Washington Redskins for seven years for multiple media outlets and was a part of the Redskins Radio Network broadcast team for five seasons. He covers the Redskins for Monumental Sports Network (www.DCHotRead.com), WashingtonTimes.com, BreakingBurgundy.com & Warpath Magazine. Listen to Chris on Washington D.C.'s # 1 sports radio station, 106.7 The FAN
.    
You can e-mail Chris at SFTheRooster@Yahoo.com
.