The
Redskins struck fast on Monday afternoon
after having interest but not doing business with
new linebacker Zach Brown over the last few weeks
. The move
continues a fairly strong rebound by the Redskins
after a complete disaster to start the off-season. 
This is  a classic slither in the woods, thru some moderately high grass and pounce when the opportunity is right move or more likely when the 'price-tag is right' move by Washington.
In other words, the Redskins had
interest in Zach Brown
but only at the right price and terms. They were willing to sign him but only on a short-term deal, despite having contractual questions at the position he plays.
They also appear to have questions about him, as they should.
The customers (fans) of the Redskins are not going to want to hear this, because they just opened a new present left behind in the aftermath of Christmas morning, but Brown comes with some baggage.
On the field,
he's athletic and rangy which leads to him being a good cover linebacker
, something the Redskins certainly need. He
appears to be a good tackler and a player on the rise.
However, he's now with his third organization in three years and it took him almost a month to find a new home.
Probably because he wanted too much money but several that I've spoken with, wonder how well-rounded he really is. The talent is there, but questions and potential problems remain.
Is he a leader? Is he a high football IQ guy? Is he sound in technique and assignment? These are all issues that have been raised.
My pal Dan Hatman and his group at The Scouting Academy did
scouting reports on NFL free agents and when they graded Brown
, based off of his tape in Tennessee (before going to Buffalo for a year) and noted the following on Brown.
Brown's "athletic ability, man coverage and play speed" are his best attributes but his "competitive toughness" and "outside run play strength" are among the areas he struggles the most in. The
Scouting Academy's projection for Brown?
"A 3-4 system where he can use AA (athletic ability) to serve as primary coverage linebacker and can be protected vs outside run with edge-setting responsibility falling to others."
The evaluators do note that Brown can stop the run at the point of attack  because of his speed.
I don't know the individual player yet and won't be able to get a true sense of that for a while, so at this point, we're just relying on others I respect for their view.
Brown,
reportedly signed a one-year deal per Ian Rapoport of the NFL Network, via Rich Tandler of CSNMA
. Rapoport added some financial details on Monday evening.
The deal is for one year with a maximum value of $4.65 million and a $500-thousand signing bonus
.  
It will be interesting to see how his role plays out, because Brown is now the highest paid inside linebacker on the Redskins.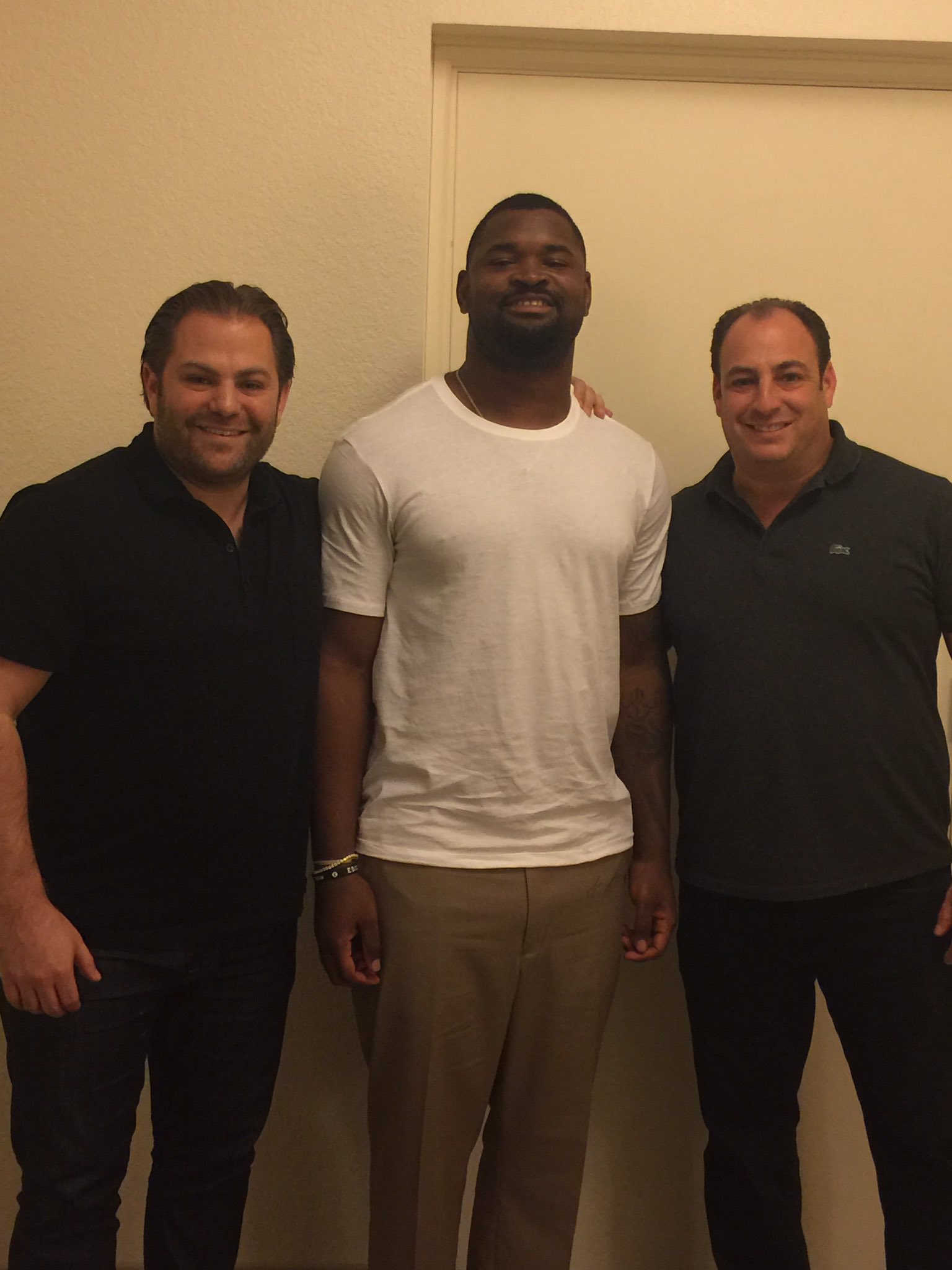 (New Redskins Linebacker, Zach Bown, with agents Michael and Jason Katz of CSE Talent. Photo via Michael Katz.)
Mason Foster is entering the final year of his contract in 2017 after a good finish to the 2016 season and Will Compton is currently unsigned with a restricted free-agent tender that he is sitting on. Washington also has Martrell Spaight and Steven Daniels on the roster and under control as well.
That's what makes the reported one-year term even more interesting and perhaps telling about what the Redskins are getting. Washington either has legitimate questions or Brown is banking on himself, and it's probably a little bit of both.
What cannot be denied is this: For now, Will Compton, Mason Foster and now Zach Brown are all eligible to leave after 2017 and adds to a pool of potential free agents at big positions  or Washington, such as Kirk Cousins, Terrelle Pryor, Brian Quick, Chris Thompson, Morgan Moses, Spencer Long, Bashaud Breeland and others.
As others have pointed out, and I believe John Keim of ESPN was first, many fans are going to automatically pencil Brown in over Will Compton, and paired next to Mason Foster. That's not absolutely certain, and if I was a gambling man, I would say just the opposite. 
I believe Compton will stay and has earned the signal caller and "Mike" linebacking spot, while Brown will probably battle Foster for the starting "Moe" linebacker position. Because Brown's reputation is  good in pass coverage, it's reasonable to think that he'll be on the field as much, if not more, than Foster because he appears to be quicker and better in an area of weakness for the Skins. 
Brown did not call the signals in Buffalo last year, so in order for him to do that here in Washington in 2017, he'll have to quickly absorb and master the system (with adjustments) and communicate everything at a high level, while also playing better than Compton and Martrell Spaight, who was being groomed in that role last year. That's a tall order. 
Especially with Su'a Cravens expected to be utilized at safety this season. 
It should be noted however, that Greg Manusky is putting his fingerprints on the defense and we don't really know what he values and sees. Kirk Olivadotti, the Redskins linebackers coach is still here and is a big part of the plan, too. 
Chris Russell has covered the Washington Redskins for eight seasons for multiple media outlets and was a part of the Redskins Radio Network broadcast team for five years. He covers the Redskins for Monumental Sports Network (www.DCHotRead.com) & Warpath Magazine. Listen to Chris on Washington D.C.'s # 1 sports radio station, 106.7 The FAN