The Redskins
continue to host prospects at Redskins Park
, as we are now inside of two weeks before the 2017 NFL Draft in Philadelphia.
As we've done already with
Stanford running back Christian McCaffrey
and
UCONN safety, Obi Melifonwu
, we continue our "First Look" series with the bigger names that the Redskins have invested more time with.
Today, we profile Florida State stud running back
Dalvin Cook, who visited Redskins Park on Tuesday along with his FSU teammate, DeMarcus Walker.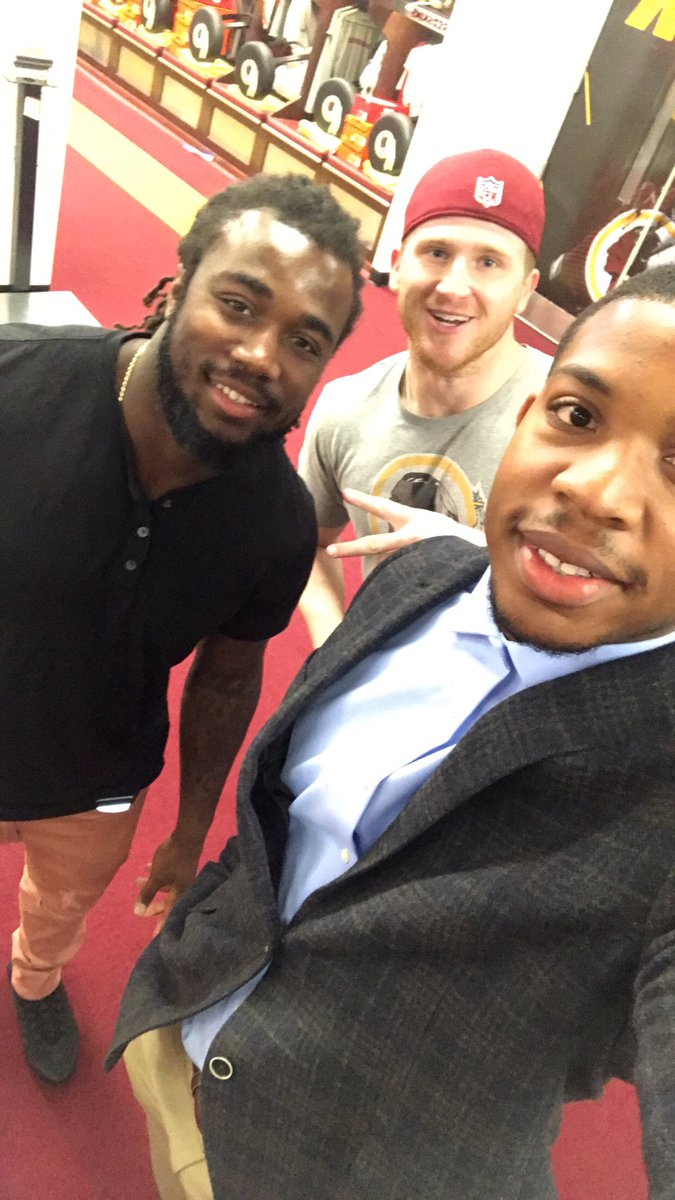 As I always try and do when I watch one or two games of a prospect, I'm going to pick out a high profile and ideally tough opponent because I don't care how Cook and Florida State looked vs. Furman, to use an example.
I do care how Cook performed against a good defense like Michigan, so that's where we started in the first of two games I looked at, courtesy of DraftBreakdown.com.
Dalvin Cook vs. Michigan: 
**Cook was targeted on an out-route to the right flat early on but couldn't really create separation and the pass was incomplete.
**On his first rushing attempt, Cook went up the  middle with a lead back for about a 12-yard gain.
**Soon after, Cook ripped off a huge counter play rush to the left w/ a lead back taking out the backside. Taco Charlton of Michigan (a potential first round EDGE prospect) was blown up at the point of attack by an FSU offensive lineman for a.  27-yard gain.
**Cook was blown up by two defenders for loss on a play in which he had no chance. This happened several times throughout the night and unofficially I counted seven rushing attempts for negative yardage.
**Right after the first negative yardage carry, Cook lined up as a deep I-Back and plowed forward for an inside run and touchdown.
**Cook lined up wide to his left on another play, ran a deep go-route and blew past the defensive back in man coverage for a huge catch and gain.
**Cook then had his second negative yardage run on the night,  on a counter from left to right. Cook used a stiff arm to get past first defender but couldn't turn the corner for a minus 7-yard loss.
**For the 3
rd
time, a defender was bursting into backfield and Cook made him miss. He got back to the line of scrimmage for no gain.
**Cook couldn't make a catch on another play as the ball went thru his hands in the right flat on first down. It was a bad no-catch.
**Cook lined up as a deep single back and stumbled thru a hole but regained his balance for a first down. On his next attempt, Cook exploded downhill thru a blitz gap overload to the other side. He recognized and ripped it. He took a big high shot at the end.
**Cook then stumbled on a swing route and dropped another pass. On the next snap, in pass protection, he picked up an outside rusher but the inside rusher blasted the FSU quarterback for an incomplete.
**Cook is willing in pass protection but ducked his head at contact. He then slipped on another run for a loss. It was by my count a fifth run for negative yardage.  
**Cook had another negative run, as he was bottled up. Then  he  was held or pulled by the facemask on a pass route, which went uncalled on an INT-TD by Michigan.
**In the 2
nd
half, on a 3
rd
-and-22 rushing attempt at about the   6:15 marker – Cook counter jab stepped to his right, went back to his left and made two defenders miss including one on 2
nd
level. He was off to the races for a 65 + yard gain.
**Cook then had another jab step first to his left and then a counter right but was not able to make Michigan miss for a seventh loss of yardage on a rushing attempt.
**Cook showed nice outstretched hands on a  screen catch but stumbles AGAIN on a 12-yard gain. Unofficially, I had Cook stumbling or losing his footing on a pretty dry surface at least four times. This is important for balance purposes and because a big play can be easily lost if you can't stay on your feet. It could be the difference.
Dalvin Cook vs. Florida: 
 **Cook was used as a play-action fake on a jet sweep reverse for moderate gain. FSU then ran a play action fake using Cook as the fake on 3
rd
/1 to TE for 1
st
down
**FSU went back to the double counter pull to the left with the right guard  and tight end. Cook hit the hole and exploded after a really nice cut in hole.
**Cook had another nice cut in the hole on a counter, after a jab step to his right to sell the fake toss play. You could see the Florida defense totally biting.
**On another attempt, Cook was lined up offset- I with  another great cut and burst,
he glided right off and around  linebacker for a touchdown  off a read-option give.
**Deep I, awesome jump cut in hole, then breaks another tackle for 21-yard gain.
**On a blitz, Cook came back and attacks a short screen pass in traffic to avoid a disaster. I liked the way how he fought for the ball and adjusted.
** Takes holding call in pass pro. Willing lead on QB sweep right but doesn't get block on anyone.
**Dalvin stumbled on a screen catch that wiped out a potential big gain, a problem that existed in the Michigan game.
**Cook had a great lead block on a QB sweep keeper for a large gain.
Chris Russell has covered the Washington Redskins for eight seasons for multiple media outlets and was a part of the Redskins Radio Network broadcast team for five years. He covers the Redskins for Monumental Sports Network (www.DCHotRead.com) & Warpath Magazine. Listen to Chris on Washington D.C.'s # 1 sports radio station, 106.7 The FAN