The Washington Redskins are up to their old-tricks again. Once again, for a third straight NFL season, they opened with a home loss. For a fifth straight year (four at home), they opened with a loss and this one, for many reasons, felt worse.
While the Redskins extended their losing streak on opening day (their last win was in 2012 at New Orleans), their five-game winning streak against the Philadelphia Eagles came to an end as well.
The Redskins beat the Eagles 27-22 in Philadelphia last year while running away (literally and figuratively) with a 27-20 win at FedExField last year.
They won the NFC East on a magical Saturday night in Philly right after Christmas in 2015 and had a huge last-minute win at home earlier that year.
Days before Christmas in 2014, Washington came down the chimney and delivered Chip Kelly and the Eagles a heaping stack of coal, eliminating them from the playoffs, with a 27-24 win and they should have won a game that year at Lincoln Financial Field in week three.
On Sunday, there was no magic. There was no buzz. There was frustration and anger, disappointment and sorrow. Resentment & rage over another ho-hum performance by the Redskins offense that is supposed to carry the way.
By now, you know, the Redskins had a chance and more chances and a chance after that, but they found a way to blow it, time-and-time again.
Here's FIVE "Quick Snaps" thoughts on where things went wrong for the Redskins on Sunday:
1 –
Kirk Cousins was way off, but this was expected.
The final numbers were (23-40) for 240 yards, a touchdown and a killer interception. His rating was a meager 72.9 and he was sacked four times.
I'm not sure why anybody expected a big day from Cousins. He is a quarterback that thrives on a lot of reps, a lot of work (practice and games) and will almost always be a quarterback that takes a while to get going.
He thrives on work and was playing in a game for the first time in two weeks, with the rust very evident.
It wasn't all his fault as the Redskins were putrid in many other areas, but Cousins is the guy expected by ownership and management to overcome all the brush-fires and consistently, when the Redskins ask him to be Superman, he falls short.
The
interception near the Eagles end zone
obviously can't happen but he's under pressure up the middle from an Eagles pass rusher and also had some pressure from his throwing side. Presumably because of the pressure, he threw it off his back foot.
The Redskins probably should have only had three turnovers, but the NFL, weirdly didn't see what
everybody else seemed to see and think
, including two former officiating heads (Dean Blandino and Mike Pereira) for the National Football League.  
Kirk Cousins was ruled on the field by head official Brad Allen to have fumbled a throwing attempt
that was returned for a touchdown. Allen explained his decision to pool reporter Master Tesfatsion of the Washington Post, saying 
his gut told him it was a fumble
. It should be pointed out that 
Allen is one of the new full-time officials that the NFL recently hired.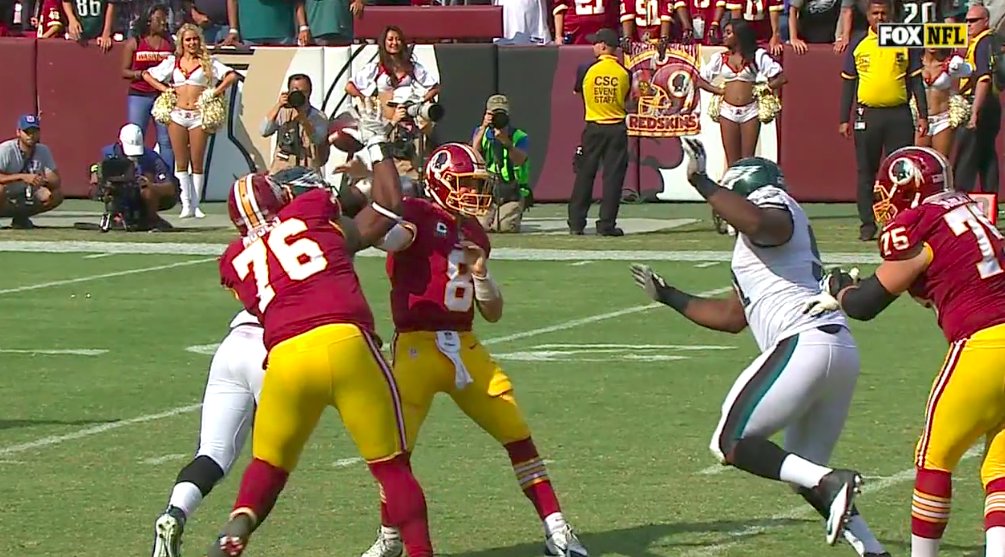 2 –
Opening day blues? 
Just to further the narrative, Cousins was (30-43) for 329 yards, no touchdowns and two interceptions against the Steelers to open the season last year. He wasn't sacked by Pittsburgh but he wasn't good that night, despite some decent numbers. He missed some throws and the passing game was erratic for most of the game.
Against the Dolphins to start the 2015 season, his first of now 33 straight regular season starts, he was (21-31) for 196 yards with a touchdown pass and two picks. He was sacked once.
The numbers are not awful, but they're not good by any means. The one number that obviously jumps out is a total of five interceptions in three opening weekend games. He has two touchdown passes in those three games.
Cousins will be fine. However, please don't ever expect ELITE. He's good & can be very good, but he's never going to be elite and if the Redskins or you are expecting that, you should abandon that. Forget about the money. Anybody that brings up money is doing it wrong. And many of you do. You're all wrong and you always will be wrong. Puhlleeze! Don't get me started.
3 –
Terrelle Pryor has to be better, clearly. 
He was targeted 11 times and only caught six passes for 66 yards. He told reporters after the game that the loss was his fault. He said he lost the ball in the sun on the first play from scrimmage, a play-action deep throw that I said repeatedly was coming. The opportunity was there but the execution was off, for whatever reason.
Pryor dropped what would have been a 50-yard touchdown catch in the end zone, on a perfectly thrown football by Cousins. The play would not have counted because of a Jordan Reed holding penalty, but that's the overall point. The Redskins had opportunities and they botched them.
There was another throw from Cousins in the fourth quarter, that was high and Pryor could not come down with. At 6'5", the Redskins are going to need him to successfully climb the ladder a bit more than he has in three preseason games and one loss that counts.
4 –
The Redskins far too often stink at running the football.
 Blame it on Bill Callahan, the play-caller (Sean McVay the last two-plus years and Jay Gruden yesterday), the offensive line, the running backs or Santa Claus. It doesn't matter who you blame it on. It's a collective struggle to run the football for the Redskins.
They only tried to run 17 times in a close game for most of the contest, for a total of 64 yards. Kirk Cousins was the co-leader in rushing yards at 30 on 4 attempts/scrambles. Robert Kelley only had 30 yards on ten attempts.
The Redskins clearly struggled to run with a few negative runs on first down early in the game and then the overall inconsistency that they normally display against good front-seven units.
The problem? When they can't run or when they don't try to run, the offense is almost never good. There are isolated examples over the last few years where the passing attack largely carried the load with little help from the rushing offense or at least the attempt to rush the ball on a consistent, full-game basis.
Think back to Thanksgiving in Dallas last year or the great comeback against the Tampa Bay Bucs in 2015 that saved the Redskins season, but that's about it.
When the Redskins make themselves one-dimensional (partially forced), they usually don't have a chance.
Yesterday, the Redskins did not run the ball once over the final 14 plus minutes. The game was tight until just after the two-minute warning. They
also only ran the ball FOUR times in 33 second-half offensive plays
. 
The bottom-line is this: It's inexcusable that the Redskins keep thinking the passing game works well without any help or commitment from the other side. They panic and give up, make themselves one-dimensional and then make mistakes.
I'll have much more on this running debacle later, because while I admit I am stubborn, I know I am right.
5-
Believe it or not there was some good (and some more not so good) to come out of Sunday's loss.
Preston Smith
had a sack and forced an intentional grounding on 3
rd
down, which in my eyes, is essentially a sack.
Junior Galette
was noticeable on a couple of plays,
including a sack that was ultimately wiped out
because of a Ryan Anderson offsides foul.
Kendall Fuller
did a terrific job slipping around blocks on receiver screens and smokes, causing a turnover on one and helping the Redskins get off the field on another. Fuller recognized it, got around the designed block and blew up both plays. It's so key that you are able to do everything. Far too often, players can do one part or two parts, but they can't finish. Fuller finished.
Josh Norman
and
Bashaud Breeland
perfectly played deep balls in the first half for the Redskins, breaking up potential long touchdown passes. However, the tough/bad part is that neither was able to squeeze potential interceptions despite their hands on the ball. Certainly, a tough play but plays that ultimately could have been made.
The real problem? Two plays after Norman's great pass breakup (but non-interception), the Eagles scored a crazy touchdown and one play after Breeland's pass defense in the end zone, the Eagles kicked a field goal to end the first half. That's a potential ten points that the Redskins could have had off the board if they somehow made good or very good into special. Ten points.
Ryan Kerrigan's
third career pick six was a temporary game saver. It helped cut into a 13-0 lead with help from
Stacy McGee
who deflected the pass. Kerrigan has three career interceptions and all three have been returned for a touchdown. That's efficiency.
Zach Brown
was terrific, knifing into the backfield on a 3rd-and-1 run stop. He also had a big pressure that set up a sack by Matt Ioanaiddis. He's a maniac, in a good way. 
Chris Thompson
is terrific but everybody knows that. The Redskins finally did the right thing with a key asset by extending his contract this past week and he rewarded them with a key touchdown catch to give Washington the lead. 
Chris Russell has covered the Washington Redskins for eight seasons for multiple media outlets and was a part of the Redskins Radio Network broadcast team for five years. He covers the Redskins, Washington Valor and Baltimore Brigade for Monumental Sports Network (www.DCHotRead.com).  Listen to Chris on Washington D.C.'s # 1 sports radio station, 106.7 The FAN