The Washington Redskins did everything as expected on Monday Night Football. They tried to run early, they had success, they took a lead and controlled the first quarter. They had moments of brilliance on both sides of the ball. They had one huge chance to win. They many smaller chances to do something that likely would have led to a win.
They played with heart, guts, courage and left the gas tank empty. They played about as good as possible considering how stacked the deck was against them.
They still lost. 29-20 was the final to the still undefeated Chiefs  and their outstanding/creative head coach Andy Reid (pictured above)
The final score was in no way indicative of the actual game. They had plenty of opportunities for someone, somewhere to make a play and deliver a shocking win, and instead all they got left with a over-cooked burnt end.
Kansas City is famous for good barbeque and a raucous atmosphere, but Washington was left with a bad taste in their mouth and a feeling of loneliness.
Now for "Quick Snaps" as the Redskins hit the bye.
1 –
Josh Doctson could have provided a great and memorable play that would have lifted the spirit of the nations' capital, but he did not.
A seed thrown by Kirk Cousins
(even though he could have gone to Jordan Reed on the isolated "1" side) "could" have been caught by the former TCU star, who plucked his first career touchdown last week.
If Doctson makes a tough play, but one that he probably needs to make, the Redskins have at least a three-point and probably a four-point lead pending the extra point. Kansas City would have needed a touchdown to take the lead instead of a field goal on their final offensive drive.
The Redskins had to settle for a game-tying field goal and left too much time on the clock for the Chiefs who quickly moved into field-goal territory and their placekicker, Harrison Butker, connected on the game-winner, in his first NFL game.
2 –
The kick gave the Chiefs a 23-20 lead with :04 left. Anything that happened after that (a crazy defensive touchdown by the Chiefs as the Redskins play 'can't touch this') is completely and utterly meaningless. I might be the only person, but I don't care about the Chiefs covering the spread. That's for losers and people that have way too much time and money on their hands. Sorry.
3 –
The Redskins made way too many mistakes of the self-inflicted variety. Preston Smith had three defensive penalties with all three coming on third down (only two were enforced/accepted). The Redskins also had a fourth encroachment penalty, on Ziggy Hood. And that was just the start.
Bashaud Breeland had an illegal use of hands to the face on a third down stop that had nothing to do with the play (led to a field goal) and also had a 15-yard horse collar foul. On the same drive, Junior Galette had a roughing the passer call and the Redskins still would have forced a field goal if not for a somewhat controversial call (pictured below, Smith # 94 is on the left side of frame) against Smith for one of the defensive offsides flags. The next play, Smith bit hard on a read option keep by Alex Smith who glided in for a touchdown.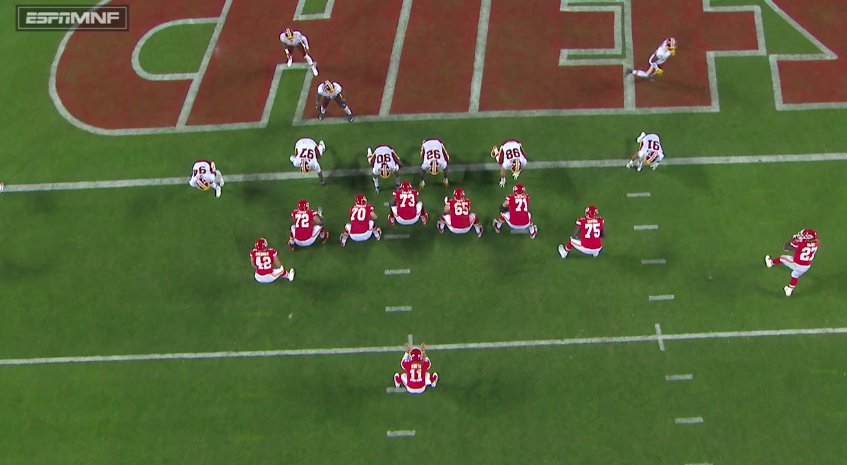 (Photo via Michael Phillips (@MichaelPRTD) of Richmond Times-Dispatch)
The Redskins were hanging on for dear life, they were gassed and battered, but they couldn't resist temptation far too often.
4 –
Kirk Cousins was very good in my eyes. Sure, there were some throws that he was over-amped on (long ball incompletion on third down to Ryan Grant) but he made every big throw you could have asked in every big spot.
The Doctson throw was the tougher throw and read, but Cousins put it exactly where he had a chance and it almost worked.
Cousins threw into tight windows for the touchdown to Ryan Grant, hit the ageless Vernon Davis in perfect stride on a 69-yard hook-up to precede the Grant score, and connected with
Terrelle Pryor for a 44-yard touchdown
on the Redskins first drive of the night.
A couple of huge third-down fails will stick out, but at first glance, it's hard to blame Cousins purely for either one. He didn't hook up with Jordan Reed on a 3
rd
/2 situation where Reed appeared to essentially sit-down on his route and Cousins threw it more to the inside. Also, Pryor appeared to be more than guilty of having "alligator arms" on one key third-down incomplete slant that was a good throw by Cousins.
That particular throw, along with a subsequent third-down defensive penalty on Preston Smith (next drive) allowed Kansas City to get right back in the game.
5 –
The Redskins (predictably, and
as we wrote in "First-and-10"
had a really hard time with Travis Kelce. The charismatic Kelce had seven catches for 111 yards. As we warned over the weekend, this was the matchup that would likely determine the Redskins fate and they've now allowed a league high 361 receiving yards to tight ends, which is worst in the NFL, after being worst in the league last year. When you combine that with third-down defensive lapses and self-inflicted debacles, you can't walk away feeling anything but frustration and the same "we beat ourselves" as much as "they beat us" mantra the Redskins have had for years. 
Chris Russell has covered the Washington Redskins for eight seasons for multiple media outlets and was a part of the Redskins Radio Network broadcast team for five years. He covers the Redskins, Washington Valor and Baltimore Brigade for Monumental Sports Network (www.DCHotRead.com).  Listen to Chris on Washington D.C.'s # 1 sports radio station, 106.7 The FAN