The Redskins are interested in Jaguars free-agent wide receiver Allen Robinson (first reported by J.P Finlay &
John Keim
), who tore the ACL in his left knee early during a surprising week one (2017) win for the Jaguars in Houston. He missed the entire season and run to the AFC Championship game for Jacksonville. 
Now,
somewhat unexpectedly, he's due to be a free man on March 14th
. 
Let's look at Robinson with some tape cut-ups, via NFLGamePass.com. We start with some of the "negatives" to present both sides of the coin, before what will make you salivate. 
In the first clip (above), Allen Robinson and the Jaguars are taking on the Colts to wrap up the 2016 season. Robinson and Blake Bortles are unable to hook up on a third-down pass for an incomplete pass. Robinson gets the defender and gets his out-stretched hands on the ball, but the throw has way too much juice from Bortles. 
This clip shows what Robinson is capable of (getting behind the defense slightly) and what drives critics of Bortles crazy. The ball is underthrown, allowing Vontae Davis to knock away a potential touchdown. 
Inside the red zone, Robinson should be able to be used as a consistent weapon because of his good size and athleticism, an area that the Redskins still need more of. On this fade, Robinson is not able to get any separation from Davis, who plays it perfectly and the play falls short. 
The number one concern about Robinson should be how he will rebound off a torn ACL suffered on the play above. It was a completely innocent looking play and perhaps that's nothing, but it just shows how fragile the human body is. 
How fast will he be after the injury? Will he ever be the same? Can the Redskins, a team with a bad history with injuries in general and players coming off of significant injuries, take the chance of signing Robinson to a multi-year deal at whatever his market value turns out to be?
Now for some good. Back in that Colts game at the end of 2016, watch how Robinson explodes out of his break and route for a huge gain after the catch. This is something the Redskins need in the worst way. 
This play (above) is just a beautiful design, throw (slightly behind), route and catch by Robinson and Bortles. This is what Robinson does very well.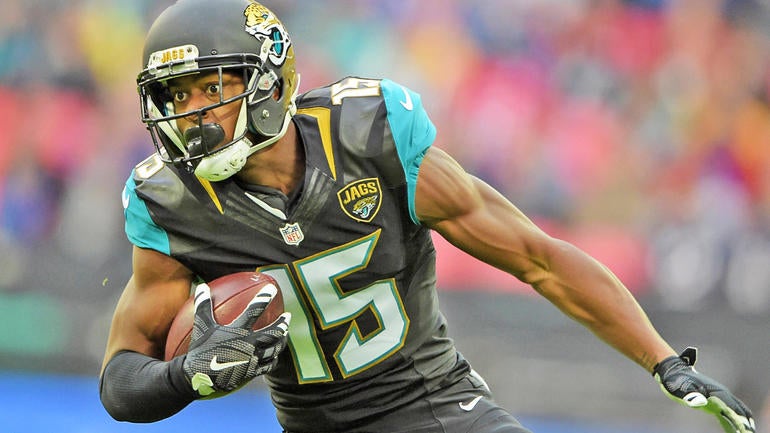 Robinson is only 24 and at 6'3" & about 210 pounds, has everything you look for in terms of frame. 
In the final clip (above) you can see Robinson's ability to stretch a defense and make an outstanding catch, albeit in the preseason. It's hard to draw it up any better than this! 
Robinson could be in line for a one-year, prove it to everyone type of deal in the $13 million range, like what Alshon Jeffery signed last year with Philadelphia. The thought being this: If he finds the right spot and he's truly healthy and productive, the signing team can do what the Eagles did last year with Alshon, extending him on a multi-year deal before the one-year term expired. 
Chris Russell has covered the Washington Redskins for eight seasons for multiple media outlets and was a part of the Redskins Radio Network broadcast team for five years. He covers the Redskins, Washington Valor and Baltimore Brigade for Monumental Sports Network (www.DCHotRead.com).  Listen to Chris on Washington D.C.'s # 1 sports radio station, 106.7 The FAN
     .